Julia Saenz Lorduy;
La historia de mi abuela
, 2021-ongoing; Patchwork embroidery on linen; 39.5 x 59 in.; Mujeres haciendo Memoria Costurero de Suba (Bogotá, Colombia)
Julia Saenz Lorduy;
La historia de mi abuela
(detail), 2021-ongoing; Patchwork embroidery on linen; 39.5 x 59 in.; Mujeres haciendo Memoria Costurero de Suba (Bogotá, Colombia)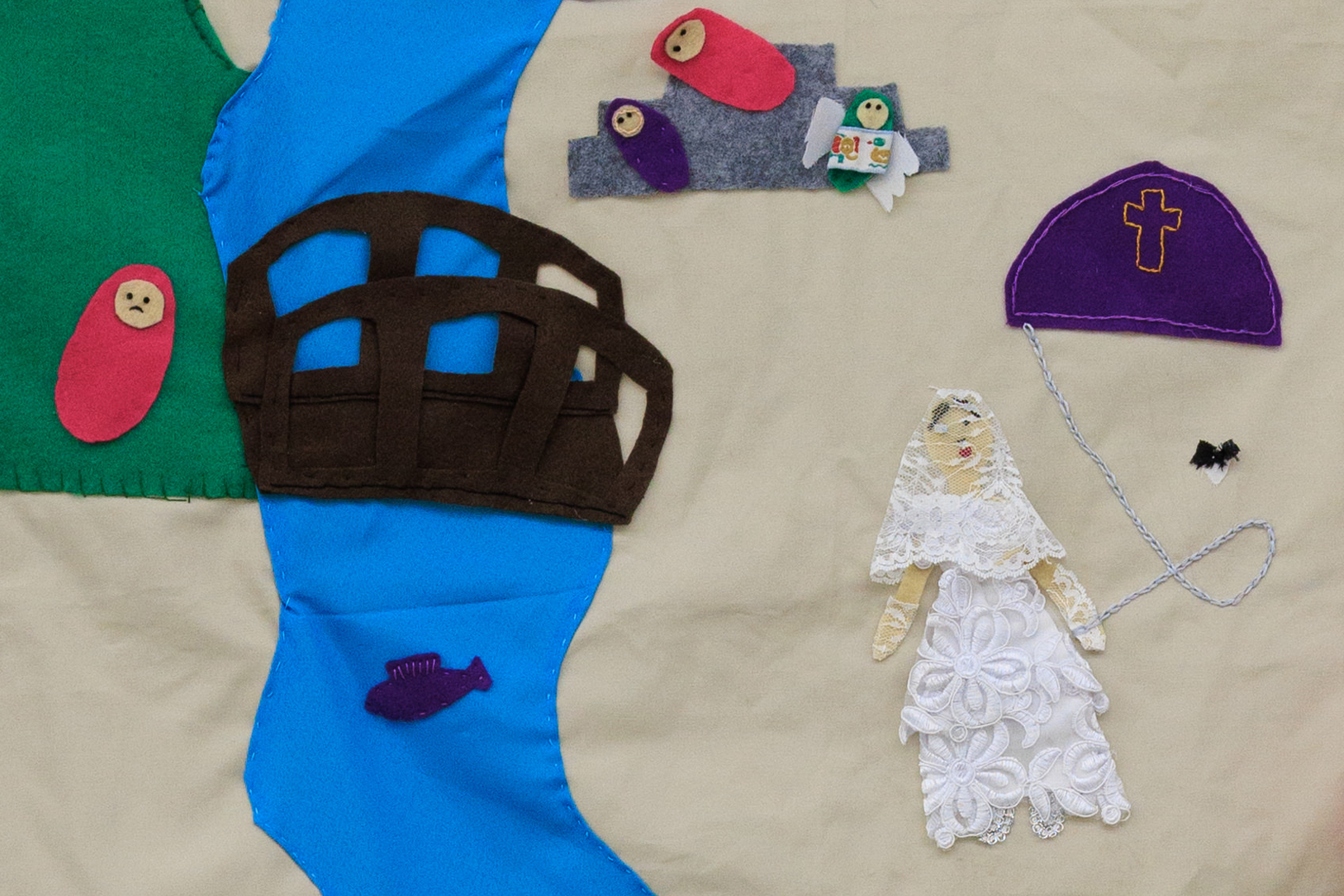 Julia Saenz Lorduy;
La historia de mi abuela
(detail), 2021-ongoing; Patchwork embroidery on linen; 39.5 x 59 in.; Mujeres haciendo Memoria Costurero de Suba (Bogotá, Colombia)
Julia Saenz Lorduy;
La historia de mi abuela
(detail), 2021-ongoing; Patchwork embroidery on linen; 39.5 x 59 in.; Mujeres haciendo Memoria Costurero de Suba (Bogotá, Colombia)
Julia Saenz Lorduy;
La historia de mi abuela
(detail), 2021-ongoing; Patchwork embroidery on linen; 39.5 x 59 in.; Mujeres haciendo Memoria Costurero de Suba (Bogotá, Colombia)
LA HISTORIA DE MI ABUELA

La historia de mi abuela
is a textile that was started in March 2021 after I joined the sewing circle Mujeres Haciendo Memoria in Bogotá. The textiles made by Mujeres Haciendo Memoria are typically collective in nature, with many hands working in one same textile over time. The pandemic, however, made this process individual by necessity. We were asked to tell our personal stories through a textile we would make by ourselves.
This textile tells the story of my grandmother, a character whose life I did not know much about, as I discovered stitch by stitch. Her story moves – like the vignettes in the fabric – through Colombian territory. From Carmen de Bolivar where she was born to an unknown mother, to Barranquilla where she was raised by her brother and married when she came of age to an older man she did not know (there is a play in words here with "esposa," a word in Spanish which means both wife and handcuff), to Palmar de Varela where she would consult a witch, to Bogotá where I was born, and where she taught me how to knit. The textile is made of patchwork embroidery on linen, with pieces of fabric from different materials. It is a work in progress, like life even after the death of loved ones.
---
BIO

Julia Saenz Lorduy is a feminist text and textile artist from Bogotá, Colombia who currently lives in LA. She studied sociology and math during her Bachelor's at Columbia University, then taught English in a public charter school in Bogotá as part of Teach for Colombia. She is currently researching – through her artistic practice and pedagogy – the interweaving of text and textiles from a feminist lens. Julia created the event textimony at CalArts, where she hosted Mujeres Haciendo Memoria in leading a hybrid sewing circle for faculty and students. Engaging the importance of depicting memory of the armed conflict in Colombia and instances of gender violence, the community gathering and practice explored how each person can tell a story through thread.
@JULIASAENZL
@MUJERESHACIENDOMEMORIASUBA